Limited-Time Offer Get Up To 30% Off
The Unforgettable Magnus Watch Experience
Explore the irresistible charm of the Magnus Watch, designed for the modern, style-conscious generation.
"The Magnus Watch has been an absolute game-changer for me! Not only has it elevated my style with a touch of sophistication, but it's also motivated me to embrace new experiences and chase after my passions. I can't imagine life without this extraordinary timepiece!"

— Magnus Enthusiast
"Are you a car enthusiast who believes that your love for automobiles transcends the need for expensive cars? At Magnus Watches, we share your passion and offer a unique way to express it. Our car-inspired timepieces are designed to turn your wrist into a statement piece that radiates your love for automobiles. It's more than just a watch; it's a symbol of your automotive zeal."

— Car Magazine
Discover the Essence of Automotive Enthusiasm
2. Sapphire Glass for Unmatched Durability
We understand the importance of durability in both cars and timepieces. Our watches feature sapphire glass, a material known for its scratch resistance. Just like your favorite car's windshield, our watches' sapphire glass ensures clarity and longevity.
5. Personalized Watch Builder
Just as you can customize your dream car, you can personalize your watch with our Watch Builder. Choose from a wide range of wheel-inspired designs to create a timepiece that resonates with your unique style.
Join the global community of over 20,000 happy customers
"You don't need to own an expensive car to show your love for automobiles; you just need the perfect timepiece. Discover the essence of automotive zeal with Magnus"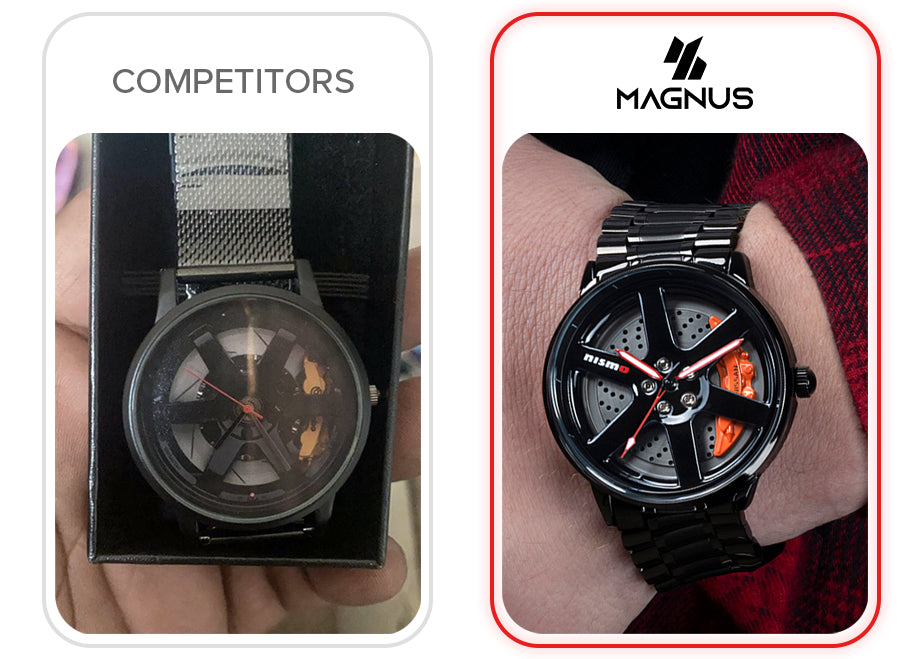 Build Your Watch and Enjoy 30% Off Today
For a limited time only, indulge in an exclusive shopping experience.
3D Crafted Wheel Watch Design
Ahead of Competitors Designs & Quality
Express Your Passion for Cars